NEW STUFF
ART
Black & White
Color Art
Collaborations
PERSONALIZED ART FOR SALE
You can help me get my own domain name. Yeehaw!



ART GALLERY
CHOOSE A LINK BELOW


Collaborations
This is a gallery of work I've done with others like Ron Lim, Rick Cortes, Tom Grummet, Scot Eaton and B. Clay Moore.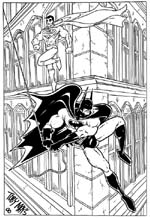 BATMAN/SUPERMAN
Don't forget to check out this piece in the black & White art section. It's one of my favorite.


PAIN INSIDE
This online comic follows Minor Threat as he tries to deal with a messy divorce.