NEW STUFF
ART
Black & White
Color Art
Collaborations
PERSONALIZED ART FOR SALE
You can help me get my own domain name. Yeehaw!



ONLINE COMIC GALLERY
CHOOSE A COMIC BELOW:
Full of alien abductions, fights, abuse of adult priveledges and cutting school. Begins the story of how Quantum Mechanics got there powers and where Dr. Shvock came from. Originally printed in Toby Mays Presents #5.

Minor Threat's marriage is falling apart and the emotional pain and stress is affecting his physical powers. This is the journey he takes to happiness and the friends, family and other forces that help him learn to live again. Originally printed in Age of Super Heroes and Toby Mays Presents #6.

The very first published adventures of Quantum Mechanics. The good guys take on the unbelievably dangerous menace of Mr. Meany Face. Can they overpower his minions or will they just give up and go get a sandwich? Originally presented in Age of Super Heroes and Toby Mays Presents #1.

A-girl, the underground comic hero of Elizabeth Watasin, meets her match when "Big Guy" shows up and starts a rampage through her town. Guest starring just about every superhero I've ever created. Originally presented in A-Girl Etc #1.

A-girl is dead and four strange new A-Girl's show up on the scene to take her place. Sound familiar yet? Originally presented in A-Girl Etc #2.

The adventures of a small boy thrown into the violent Hong Kong underground when he tries to find out who killed his parents.

FUTURE HEROES, PRESENT HEROES AND ME!

Really old and badly drawn fan fiction starring Batman, Superman, the Flash and others. Bad art, funny story.


Collaborations
This is a gallery of work I've done with others like Ron Lim, Rick Cortes, Tom Grummet, Scot Eaton and B. Clay Moore.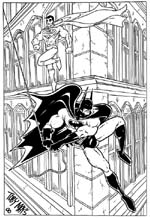 BATMAN/SUPERMAN
Don't forget to check out this piece in the black & White art section. It's one of my favorite.


PAIN INSIDE
This online comic follows Minor Threat as he tries to deal with a messy divorce.